Teacher Champion - Melissa Porter
In this issue of our BCAITC Teacher Champion series, we profile BC teacher Melissa Porter. Discover her passion for educating students about BC agriculture, food, and the environment.
What school do you teach? A: I teach at Chilcotin Road Elementary in Williams Lake, BC.
What grade(s) do you teach? A: Currently I am teaching Grade 1.
How and when did you first learn about BCAITC? A: I learned about BCAITC a few years ago. My oldest daughter took part in the BCAITC Spuds in Tubs program with her grade 2 teacher and I knew it was something that I wanted to do with my class.  It took a while to get going, but we are now in year four of growing potatoes!

How long have you been teaching students about BC agriculture and food? A: I think that teaching about making healthy eating choices has been something I have always done in every grade that I have taught.  With the resources available through BCAITC it has become even easier to delve deeper into where our food comes from and the choices you have when selecting food.
What are the most important things that you want your students to learn about BC agriculture and food? A: I want my students to know that growing our own food is something that anyone can do! If they look around, there are so many amazing local resources available to them. On our grocery store tour, we look at which foods come from BC and which cannot. Then we visit the local farmers market and see what local produce is available to us as well.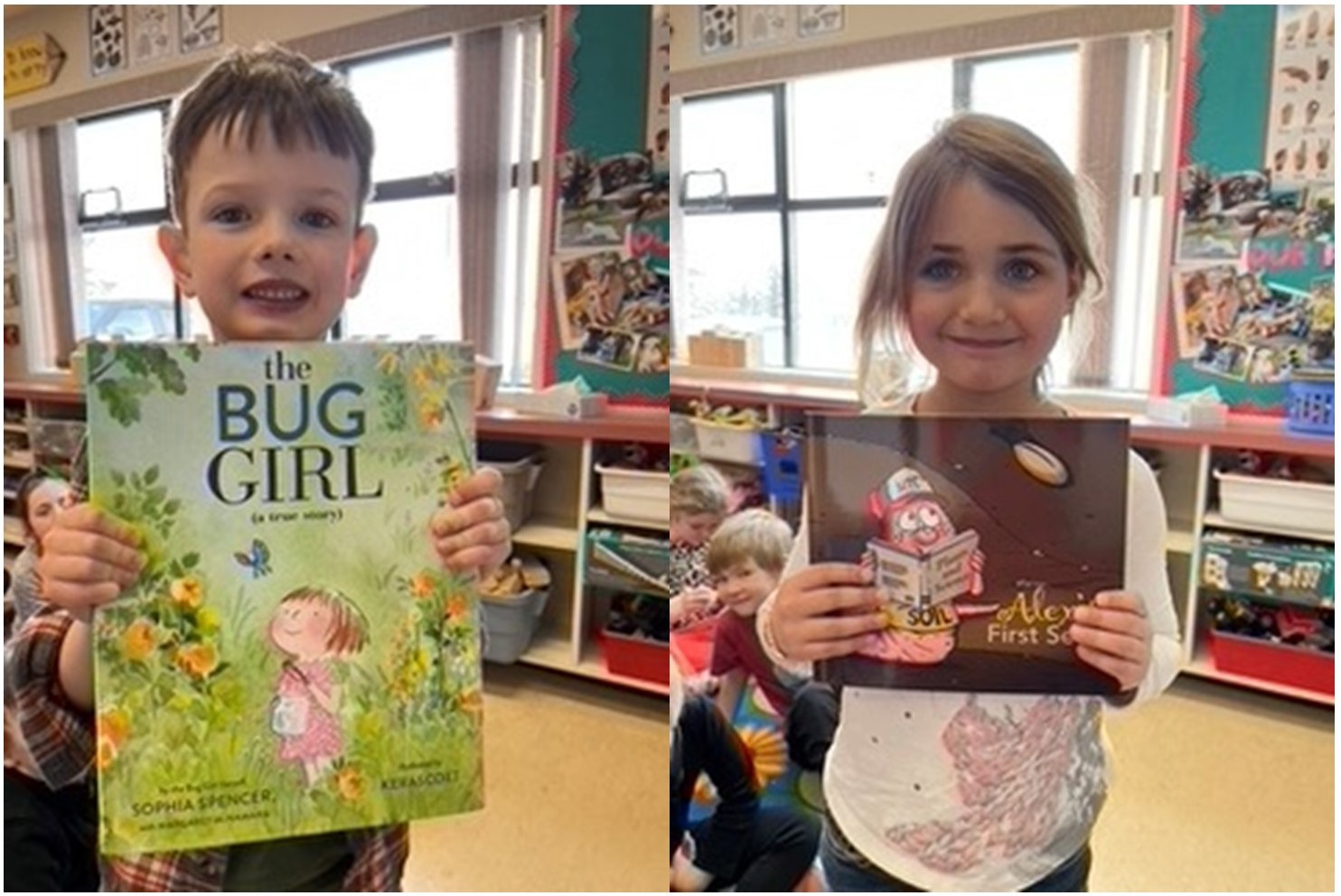 BCAITC has over 500 free downloadable resources including lesson plans, activities, videos, recipes, and more! What is your favourite BCAITC resource and why? A: The books and videos related to farms are my favourites.  With the help of these resources, I can have agricultural print to read in class and can access all the great farm tour videos compiled by BCAITC.  My students love reading their books about agriculture during Flashlight Fridays!
What is your favourite BCAITC program and why? A: My favourite program is Spuds in Tubs.  It is so fun for the students from start to finish.  They love predicting how many potatoes will grow, monitoring their tubs, and counting every single potato grown.  We try to include the other classes in our fun by keeping an interactive bulletin board updated on our potato progress.  

Describe an agriculture or food-based project/program you have implemented in your classroom/school recently. A: The Leadership students at our school have taken on the Fresh to You Fundraiser to help raise money for the whole school activities that they organize.  We had high hopes that our students would be able to manage this huge fundraiser, and they delivered! The leadership students promoted, organized, and delivered all the fruits and vegetables in the program.  They were even able to take extras to the Boys and Girls Club and the Salvation Army as a donation to their food banks.
Do you have any advice for other educators on how to integrate agriculture and food education into their curriculum? A: Start small with one project and add more as you get comfortable.  It is amazing how each program will fit into your teaching year and how you will look forward to each seasonal activity as it comes up.  Agriculture-based programs promote outdoor learning with a focused approach, which is very helpful if you are a new teacher trying to manage teaching outside of your classroom. 
About the Teacher Champion Series: This monthly BCAITC series features BC teachers and school staff who are passionate about providing agriculture and food education to K-12 students. For more information, contact BCAITC Communications Coordinator, communications@aitc.ca.