Teacher Ambassador Experience - By Cindy Sherstan
 

Cindy Sherstan - Teacher Ambassador,  North Cariboo

Cindy Sherstan is a Jr. High home economics teacher in the Quesnel School District. She believes that all learners benefit from education about food and food-systems, and wants to bring agriculture to life for her students through place-based learning opportunities. Cindy also wants to help students and teachers explore the larger role agriculture plays in their community at both a political and economic level. Cindy has participated in several BCAITC programs and hopes to bring more school garden initiatives to her district. When not in the classroom, Cindy can be found exploring local trails, pulling weeds amongst the bees in the community garden, or plotting adventures with friends and family.
Agriculture Through the Generations
As a home economics teacher and gardening enthusiast, food has long been a passion of mine. Education about food, where it comes from and how each of us are connected to it is vital and I feel strongly that it should be accessible for every student. This belief led me to look back on my life in the context of agriculture and how it sustains one's mind, body and senses through generations.
Early Garden Memories
Growing up I had little awareness of my own family history in agriculture. My parents had a small garden where my dad grew strawberries, green and yellow beans, potatoes, and carrots. We also had a greenhouse full of tomatoes, cucumbers, and the like. I loved harvest time, and remember my dad showing me how to pull up carrots by their leafy green tops, give them a quick swipe to loosen the dirt, and then bite into the crispest, sweetest carrot ever. I remember the bugs and the smell of the soil. It was a happy place to be. It wasn't until July 2016, as part of a pre-assignment for the BCAITC Summer Institute, that I looked into our familial agricultural past and found that home agriculture played a key role in survival for my ancestors and their families.
My Agricultural Roots
I knew that my dad grew up on a homestead in Alberta, because he sometimes told stories about those years, usually with a smile on his face about a hard lesson learned. I found out that his parents took on the homestead after losing their sheet metal business during the depression. They raised all kinds of animals (ducks, geese, turkeys, chickens, pigs, cows) in small numbers, mostly for their own use, but they sold the odd pig and always kept cream from their milk cow to sell to the dairy. They generally grew a crop of wheat or other grain for profit as well. All together, they were able to maintain a living, though it was a hard one. My mother told me of her childhood visits to her own mother's family home in Grand Bank, Newfoundland. My great-grandparents had an extensive acreage there, where they grew, raised, or caught most of their own food. They had eleven children to feed and a second garden four miles away to support them all.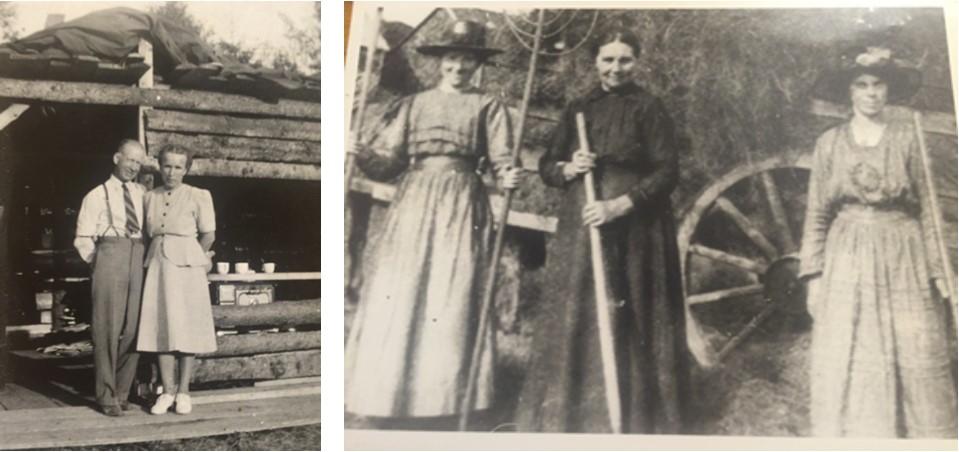 Left: My grandparents on their homestead in Alberta; Right: My mother's relatives in Grand Bank, Newfoundland
Home Garden and My Own Little Ones
Although I hadn't been aware of my familial connections to agriculture, it was important to me that my children have the opportunity to see the wonder in growing our own food, and in having the garden as a magical space for work and play. I wished for them to know the comfort of putting their hands in the soil and the reward of eating straight off the vine; to grow up with curiosity about the bugs and birds within, and to understand how interconnected we are to our food and our environment. The year my first daughter was born, I started asparagus plants from seed. That was the beginning of our family garden to which I escaped for much-needed breaks as a young mom, and where I could get lost for hours in weeding or rock picking. As the children grew and became more active in the garden, they became grazers of peas, carrots, asparagus, and strawberries. I was relieved in knowing that they understood that food didn't come from a truck or a store, but from people who worked hard to grow it and that it took care and time to produce. In this picture my daughter is cleaning the kale she had just picked from her own little garden patch.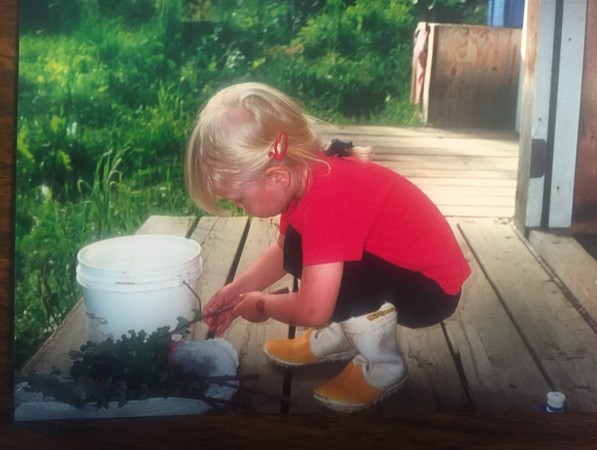 My daughter cleaning the kale in her garden patch
Bringing Agriculture to Life for My Students
I wanted these same opportunities for my students. After completing the Summer Institute course, I applied for and was accepted into the BCAITC Spuds in Tubs program for my school. I teamed up with another teacher and their students to implement the program. I witnessed them come alive as they examined their spuds and then filled tubs with soil in preparation for planting. I was rewarded with their engagement and wonder, hearing one say with surprise, "This is actually fun!". I knew that getting out in the garden made me feel calm and connected, so it made sense when most of these students were excited and filled up by these experiences. Even when we faced challenges (poor harvest, small potatoes) they were keen to carry on and talk about "next time".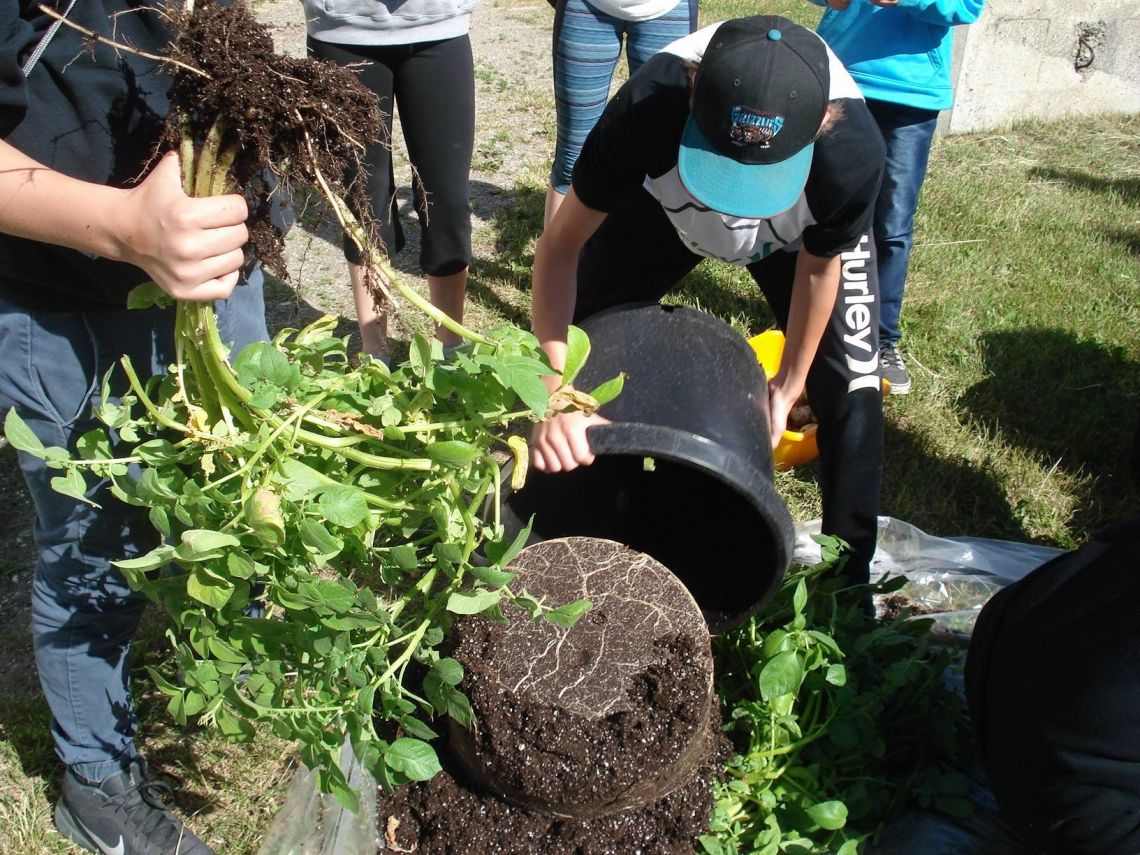 Home Economics 8 & Grade 9 students harvesting their Spuds in Tubs
Pandemic Time
As a BCAITC Teacher Ambassador, I had many plans in the works for spring 2020. A colleague and I had just guided five grade 8 student leaders in planting their spuds in tubs. Our BCAITC harvest bins had recently arrived and the members of our newly formed QJS Agriculture Committee (myself and 5 other teachers) were actively making plans for the bins and our students' learning. I was scheduled to present a workshop on the Grow BC Interactive Commodities Map to teachers at the Educational Spring Fling in Prince George in April. Then the pandemic hit. Plans have had to change. It has been a difficult spring. Yet during this time of isolation, increased handwashing and physical distancing, agriculture is more relevant than ever. I am hearing from students that they are helping put in gardens at home. They are making food and learning with their families. The news reports include much for discussion including the politics and economics of food in pandemic times. Here in Quesnel, our five tubs of spuds are being cared for by the 5 student farmers who planted them. They are providing the care, progress reports and the odd picture. I am looking to the time when I can get back to the garden with students, to take in the sustaining sights, scents, and stress-release it provides, but for now I will continue to promote and support agriculture education.