Surprises and Delights at The Pencil Patch
We love The Pencil Patch! The amazing garden is located at Delair Road and Angus Campbell Road in Abbotsford within the expansive Abbotsford Community Garden. The Pencil Patch has provided thousands of K-12 students with the opportunity to participate in self-guided tours to learn about BC agriculture since 2013! Discover this incredible outdoor classroom is filled with nature's surprises and delights!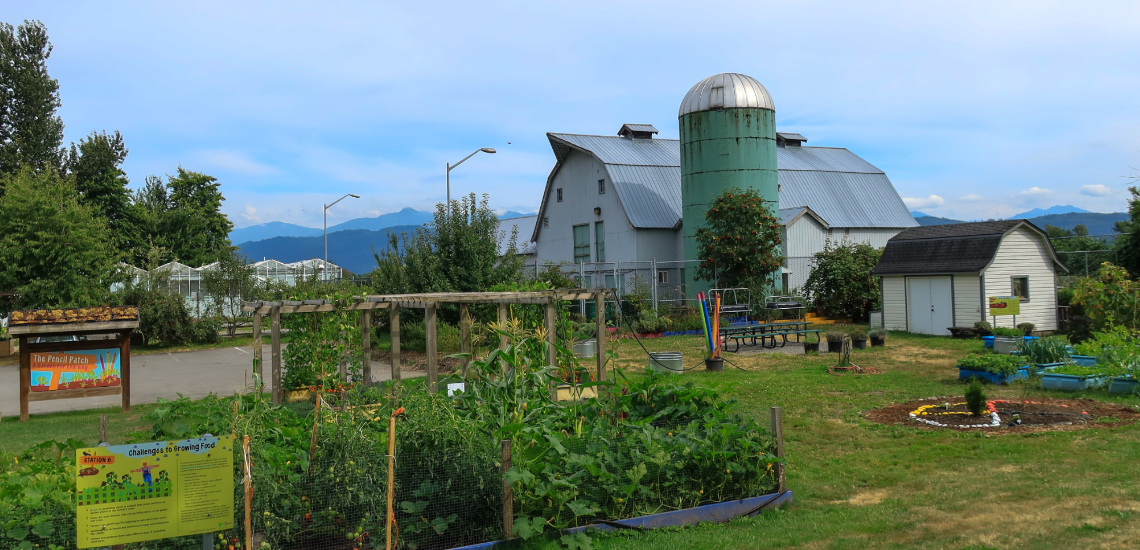 The Pencil Patch is an outdoor-learn-and-play environment where agriculture, wildlife, and education are brought together. Students that visit The Pencil Patch can learn about BC agriculture subjects, such as soil, pollinators, water, growing zones, the Agriculture Land Reserve, invasive species, greenhouses, crop rotation, and more. In addition to engaging in agriculture education, students love the fresh air, great outdoors, and opportunities to connect with nature.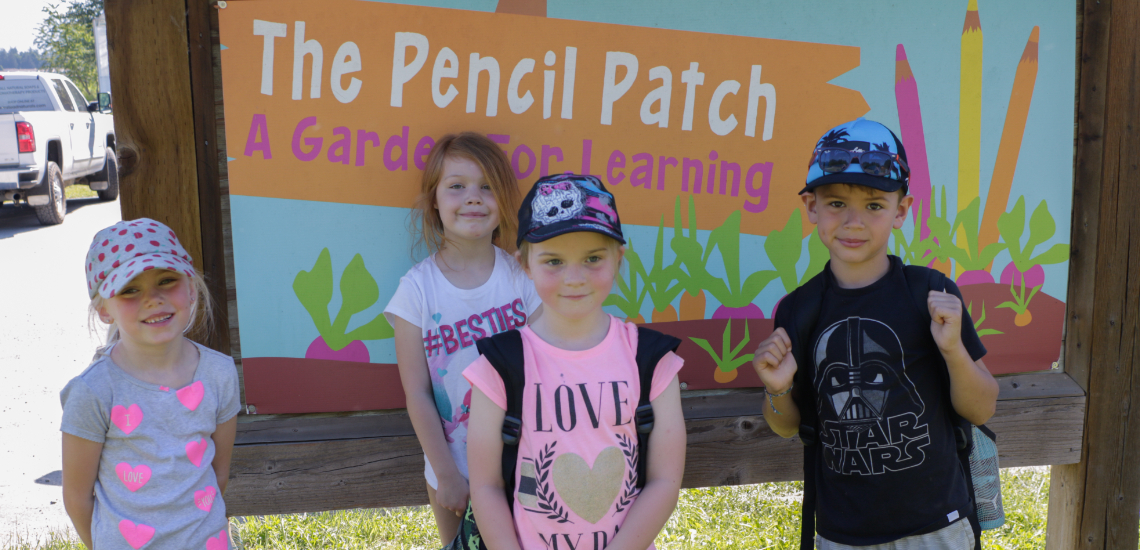 Garden Features
The Pencil Patch is full of incredible highlights:
14 Learning Stations: Provide fun and interactive agriculture education (see details below).
20'x40' Garden Bed: Grows delicious pumpkins, corn, beans, and rhubarb.
Raised Harvest Bin Beds: Showcase carrots, sunflowers, wheat, radishes, and greens.
Flower Beds: Feature dahlias, marigolds, daffodils, lavender, nasturtiums, snapdragons, chamomile, lemon balm, agastaches, and scarlet runner beans (great for hummingbirds).
Herb Containers: Display thyme, sage, chives, mint, and rosemary - providing a fragrant aroma throughout the garden.
Trees: Crabapple, red elderberry, cherry, and oak trees are sprinkled throughout the garden.
Hope is Growing Garden: The Hope is Growing flower garden features a wide range of sunny yellow blooms including – pansies, nasturtiums, leopard's bane, and dahlias. The Hope is Growing edible harvest garden includes yellow watermelon, yellow cucumber, canary Swiss chard, lemon boy tomatoes, and yellow peppers.
Large Grass Area: Provides open space for students to roam and play!
Medicine Wheel: This traditional Indigenous concept was added to the garden in 2019. It provides learnings about the interconnectivity of the natural world to people. Signage will be added to the Medicine Wheel later this year to provide an additional learning station.
Pollinator Garden: Planted especially to attract and support pollinators.
The Milk House:  A former milk storage location for a 1920's dairy farm, the Milk House now holds the garden's tools. This site also provides a talking-point for lessons on milk production.
Picnic Tables: Provide plenty of areas to enjoy snacks or lunch.
Eco-Friendly "Living Roof": The Pencil Patch welcome sign roof is covered with succulent plants - providing  shade for visitors.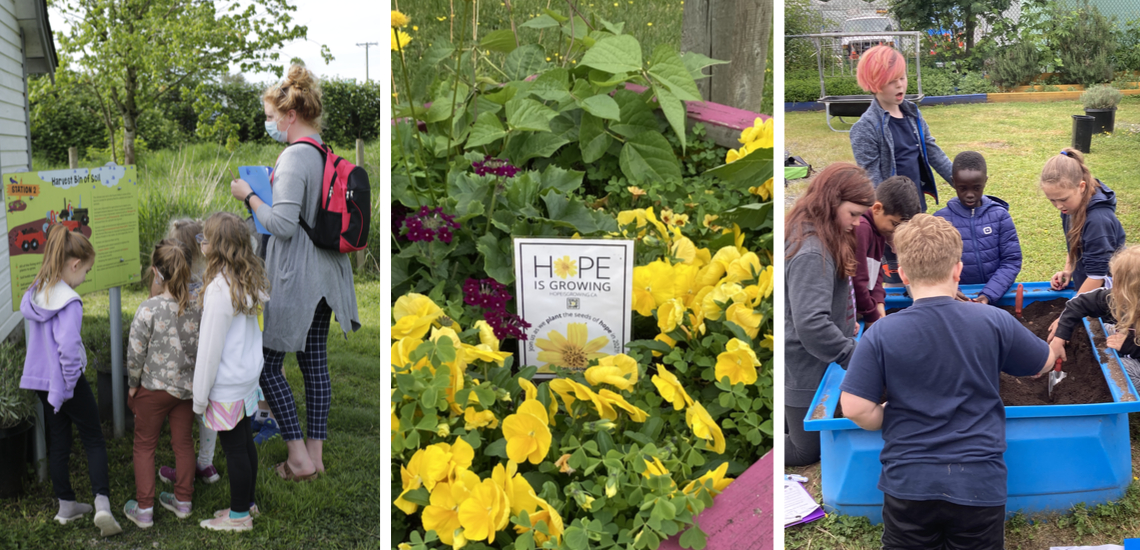 Also, adjacent to The Pencil Patch and within the Abbotsford Community Garden is a large greenhouse, hundreds of community garden plots, a marshland, and a small fruit orchard.
Visitors to the garden might even discover furry friends like rabbits, moles, or even goats – which are known to visit the garden from time to time!
Everything in the garden is grown organically and is free of herbicides, insecticides, and other pesticides so visitors to the site can ensure that they have a safe experience.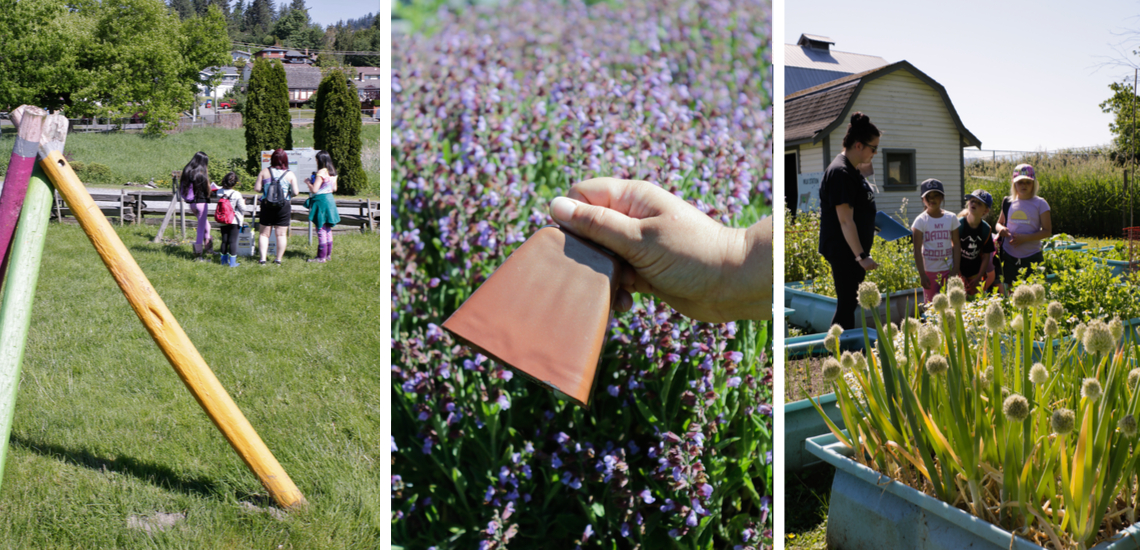 Self-Guided Tours
Spring and fall, students from all over the Lower Mainland are invited to visit the Pencil Patch and participate in 90-minute self-guided tours. Students can visit 14 learning stations and participate in hands-on educational activities:
Station 1: Milk House – Learn about milk production at the heritage milk house. Students visiting this station can also sample a milk beverage, courtesy of Fraser Valley Dairy Farmers. 
Station 2: Harvest Bin of Soil – Dig into soil to learn about it and its nutrients for growing.
Station 3: Grassy Field – At this station, students can learn about farmland and the edge effect.
Station 4: Raised Garden Beds – Discover why plants are grown in raised beds and learn about soil compaction, erosion, and drainage.
Station 5: Love the Bees – Find out about bees, honey, and pollination at this station.
Station 6: Challenges to Growing Food – Learn about pests and pest management.
Station 7: Water for Food – Learn about the importance of water, irrigation, and water conservation.
Station 8: Red-Winged Blackbird - Discover the beautiful bird that lives in the garden.
Station 9: Marshy Wetlands – Students gain knowledge of the garden's marshy wetland and biodiverse eco-systems.
Station 10: The Abbotsford Community Garden – Learn about the benefits of community gardens, urban agriculture, and the zero-mile diet.
Station 11: Invasive species - This station covers native species, non-native species, introduced species, and invasive species.
Station 12: Forest Grove – Learn about trees and birds and the symbiotic relationship between them.
Station 13: Greenhouse – Students find out the advantages of greenhouses and hydroponic growing.
Station 14: Photosynthesis – Learn about the elements that food needs to grow and the importance of the agri-food industry.

Hands-On Planting Days
In addition to guided tours, when available, BCAITC makes the opportunity available to select schools to participate in 2-days of hands-on lessons in planning, planting, and harvesting their own gardens in The Pencil Patch. This experience shows teachers and their students what it takes to plant their own school gardens.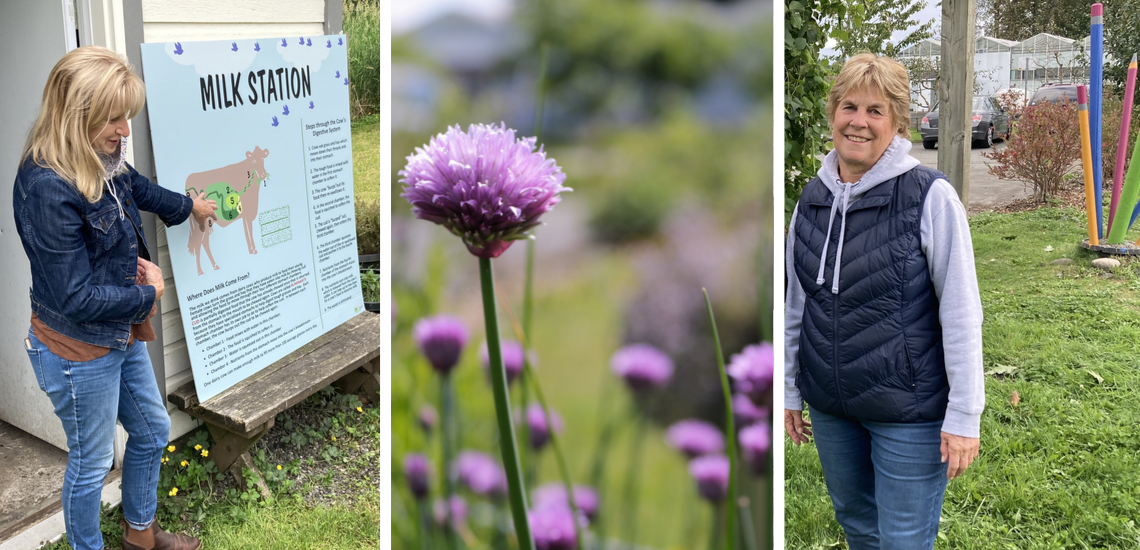 Thank You Volunteers
The Pencil Patch could not operate without the many volunteers that provide assistance with the self-guided-tours. Special thanks to Sheryl Martens, Barb Hudson, and countless others who have selflessly volunteered in the garden for many years, sharing their passion for agriculture with students. We are lucky to have you onboard our volunteer team. Click on the volunteer names above to learn how and why they get involved with The Pencil Patch.
"It has been a pleasure to volunteer at The Pencil Patch. The staff at The Pencil Patch are friendly, organized, and welcoming. It is exciting to prepare for the schools that arrive at The Pencil Patch and to see the children all prepared and excited for the field trip ready to learn. It is so cute when the children ask why we have large colourful pencils in the garden and we remind them that there is lots to learn about at The Pencil Patch." - Sheryl Martens
"Having just retired from teaching kindergarten and grade one for over 30 years, it has been a pleasure to be able to continue to work with young children as a volunteer in such a beautiful setting. I have always felt valued and appreciated by all the people who work at The Pencil Patch." - Barb Hudson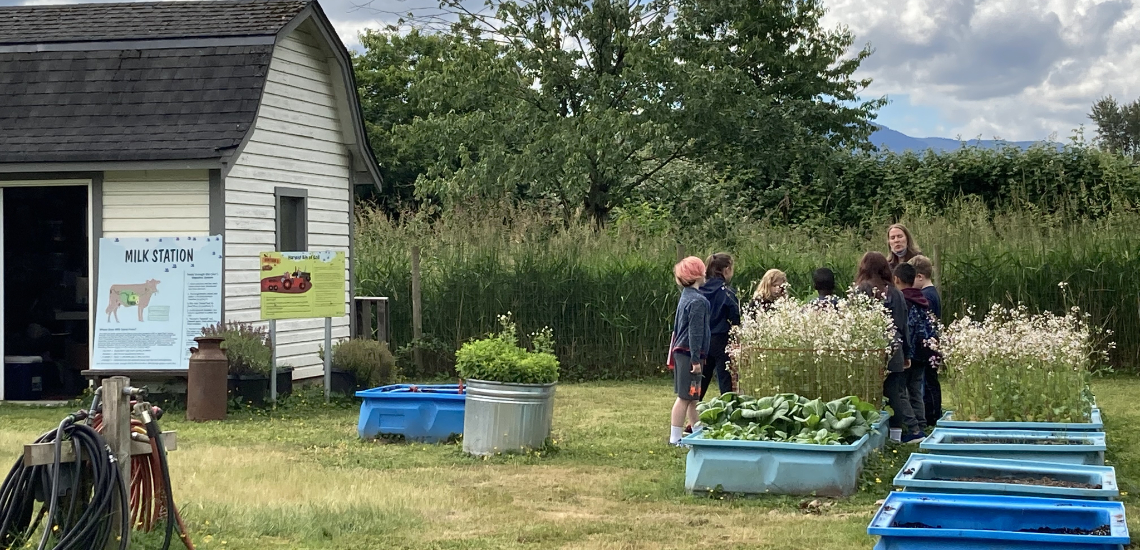 Support
The garden would not be possible without the support of the City of Abbotsford to create this amazing location. Plus, thank you to partners and Abbotsford neighbours for their help in creating the Pencil Patch including BC Youth in Agriculture Foundation, Fraser Valley Dairy Farmers, and McDonald & Ross Construction Ltd.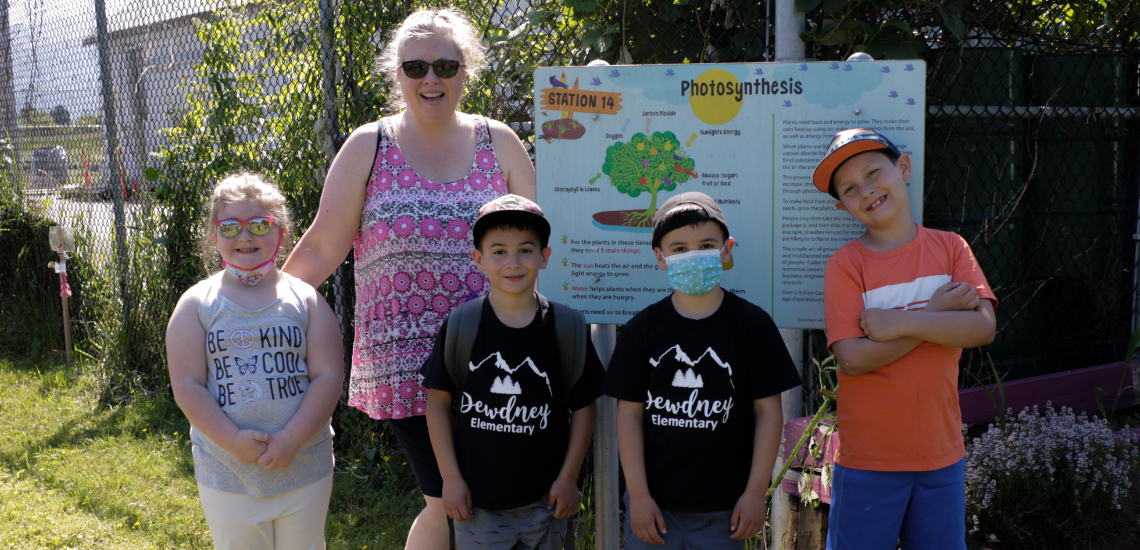 Get Involved
Interested in bringing your classroom students for a tour? Interested in volunteering? Want to discuss partnership opportunities? Contact us at info@aitc.ca or click here to find out how you can get involved with The Pencil Patch.