Spotlight Series on Hazelnuts
BC students can learn about BC hazelnuts from farm to table with the new BCAITC Spotlight Series on Hazelnuts. Take a Bite of BC, Culinary Arts, and Home Economics classrooms, homeschools, and anyone interested in food and farming can use the Spotlight Series on Hazelnuts tools to learn about the amazing BC hazelnut industry.

Spotlight on Hazelnuts
The toolkit includes: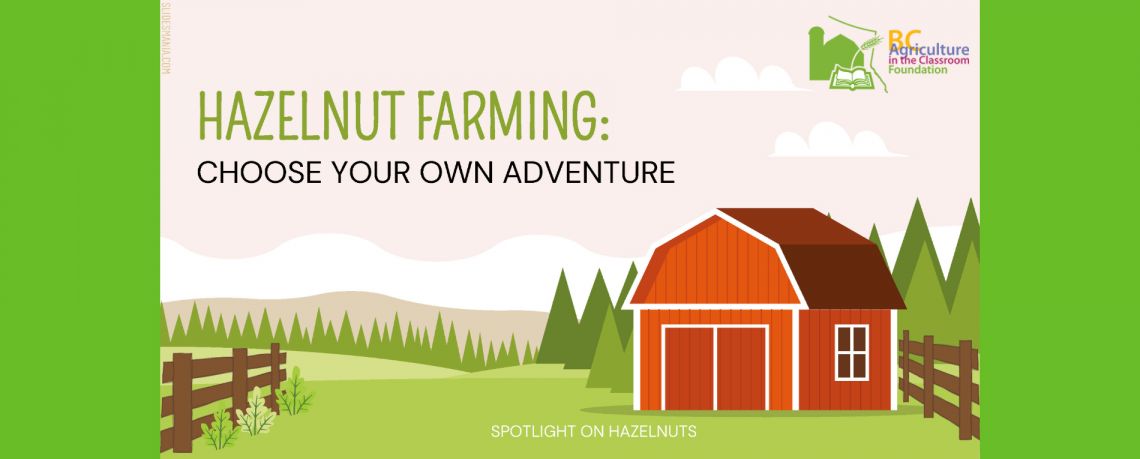 Pat Tonn, BCAITC's Executive Director, said, "We're proud to showcase BC's hazelnut industry by providing education on this BC commodity. Only a few years ago BC's hazelnut industry was in peril due to the Eastern Filbert Blight disease. Now, replanted BC farms are bounding back and helping to meet the growing worldwide demand for hazelnuts." Tonn continued, "With our newest Spotlight Series, students can learn all about growing, working, and cooking with hazelnuts."
Chef Trevor Randle said, "I'm looking forward to incorporating hazelnuts into the Culinary Arts class recipes this fall. Students will learn about how to use this flavourful, nutrient-rich, BC grown nut in a variety of dishes."
The new Spotlight Series on Hazelnuts, compliments the existing Spotlight Series on Honey, Chickens, Blueberries, Pork, Duck, Eggs, Cranberries, and Apples.  Find the full series here.