Canada Career Month 2022
November is Canada Career Month! BC Agriculture in the Classroom Foundation (BCAITC) and Agriculture in the Classroom Canada (AITC-C) invite you to celebrate with us!
Canada Career Month is a great opportunity for students to learn about agriculture and food careers. There is a vast array of careers available in the agriculture and food industries! From Farmer to Food Stylist, Florist to Field Technician, Food Studies Teacher to Fisheries Manager, there are thousands of rewarding careers available throughout all regions of Canada.
We have a variety of educational initiatives planned for the month including our 30-Day thinkAG Challenge, our Kareero App launch, Career Case game extension activities, and our I am Agriculture campaign outlined below. Join us for these Canada Career Month festivities!
30-Day thinkAG Challenge
We've lined up a month of agriculture career education activities connected to our thinkAG site! Our 30-Day thinkAG Challenge provides teachers, counsellors, home educators, and parents with daily career education activities for their students. These thinkAG activities help students learn that their diverse skillset, interests, and unique background are not only needed in the agriculture and food industry but will help to provide them with a fulfilling career that can positively impact our country and our world.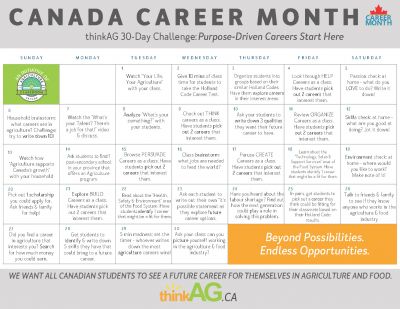 Click on the image above to download a printable 8.5"x 11" calendar. 
Kareero App
thinkAG's new interactive self-interest assessment app, Kareero, has launched! This new app offers an immersive experience where students are faced with developing a garden. Through their choices and actions, their interest areas are determined. Paired with the thinkAG website, Kareero helps students explore careers that match their interests. Download the app today: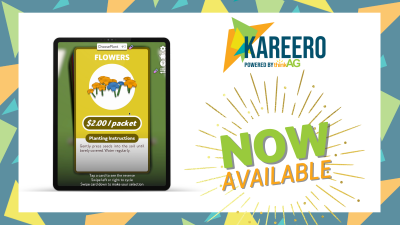 I Am Agriculture Campaign
By 2050, it is anticipated that the global population will be more than 10 billion. Our farm, food, and agriculture workforce is aging and not being replaced by the younger generation – simply because many are not aware of all we have to offer! Young people need to know that whatever their passion or interest is, agriculture is a place where they can thrive.
We need the help of employees in the agriculture and food industries to educate our future workforce by joining us for our I Am Agriculture campaign throughout the month of November. Here's how you can participate:
Download and print this I Am Agriculture 8.5" x 11" sign, then write your position and company name on it.
Take a photo of yourself with the sign.
 Post it on your social channels, and in the caption, use the hashtag #IAmAgriculture and outline where you work and what your job is (see example below).
 Highlight the diversity of jobs in your organization by asking your co-workers to do the same throughout the month.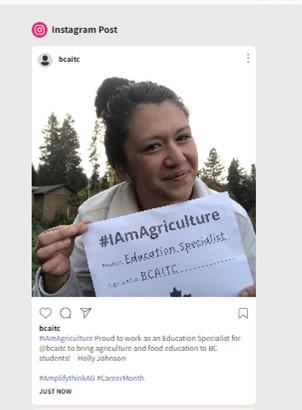 Career Case
Educators, do you have a Career Case board game in your classroom? We now have a new online teacher guide to assist you in facilitating the game in your classroom! Step-by-step instructions, helpful tips and tricks, vocabulary assistance, and suggestions on unique ways to use game materials are available at your fingertips! Check it out here. Plus watch this video to learn about the game. 
If you would like to order a free Career Case board game for delivery by Canada Post to your classroom, please fill out the resource order form here.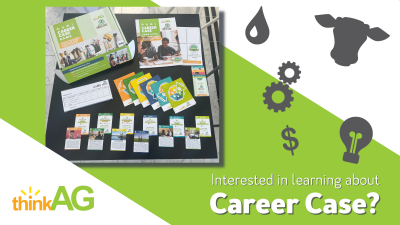 Share the Excitement
By participating in Canada Career Month, together we can help young people understand that whatever their passion or interest is, agriculture is a place where they can thrive!
Share Career Month on your social media channels with the hashtags #IAmAgriculture, #AmplifythinkAG, and #CareerMonth. Plus, be sure to like BCAITC and AITC-C and tag us on your posts: