2022 Field to Fork Challenge Results
Drumroll, please… The 2022 Field to Fork Challenge results are in! Congratulations to all the winners who submitted delicious BC grown recipes and cooking demonstration videos, showcasing their interest in BC food from farm to fork.
BC Junior-Level Students (Grades 4-7)
1st Place: Emie R. (Kelowna) - Pops' Roo Stew with Grandma's Crisp
2nd Place: Kiera C. (Kelowna) - BC Chocolate Hazelnut Super Balls
3rd Place: Adelaide C. (Victoria) - Roasted Pork Belly and Vegetables with Pear Ginger Sauce
4th Place: Piper G. (Surrey) - Bacon Cheeseburger Twice Baked Potato
5th Place: Jessie M. (Campbell River) - BC Butternut Squash Soup
4-H BC Junior Members (Born 2009-2012)
1st Place: Summer W. (Mission) - Blueberry Pie
2nd Place: Mirrah W. (Chilliwack) - Tomahawk Steak
BC Senior-Level Students (Grades 8-12)
1st Place: Lenny N. (Mission) - Chef Lenny's Three-Course Set Menu
2nd Place: Ei Pyo Y. (Surrey) - Pawkapaw (Thai Basil Chicken) with Coconut Cauliflower Rice
3rd Place: Valeria A.M. (Surrey) - Lomo Saltado (Peruvian Stir-Fried Beef)
4th Place: Alec R. (Vancouver) - BC Organic Butternut Squash Pie with Caramelized Walnut Topping
5th Place: Karmen J. (Surrey) - BC Harvest Pumpkin Muffins
6th Place: Catalina C.C. (Delta) - BC Duck and Apple Spring Rolls
4-H BC Senior Members (Born 2002-2008)
1st Place: Casey B. (Chetwynd) - BC Steak Salad
2nd Place: Natalie V.M. (Burnaby) - Cheese and Potato Pierogi
3rd Place: Laura H. (Prince George) - Roasted Pumpkin Soup
4th Place: Riley M. (Abbotsford) - Roasted Tomato Soup
5th Place: Sava B. (Victoria) - Instant Pot Chicken Pho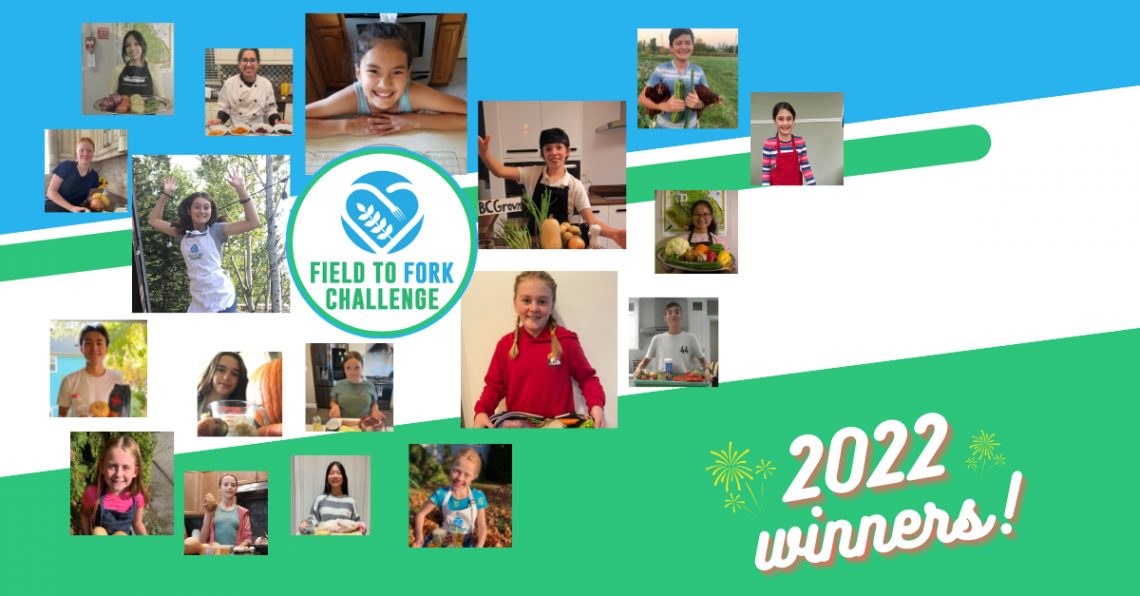 A panel of independent judges chose the 18 Field to Fork Challenge winners for their recipe selection, use of BC ingredients, evidence of thorough study, food and kitchen safety, and presentation.
A total of $4,100 in cash prizes was awarded to the Field to Fork Challenge winners. Plus, winners have the opportunity to attend a full-day virtual conference on January 14, 2023. Winners' recipes will also be published in the 2022 Field to Fork Challenge Recipe Book, coming to this site soon!
The third year of the annual Field to Fork Challenge connected BC youth, cooking, and agriculture to further farm-to-table education. The 2022 Challenge was a collaboration of BC Agriculture in the Classroom Foundation (BCAITC), 4-H BC, and the Youth Development Team from the BC Ministry of Agriculture and Food, with the support of Buy BC and Save-On-Foods. 
Also, special thanks to BCAITC Chef Trevor Randle, BC's Minister of Agriculture and Food, Hon. Pam Alexis, dairy farmer Brian Janzen, strawberry plant breeder Michael Dossett, potato farmer Cory Gerrard, BC Strawberry Growers' Associaiton, BC Potato and Vegetable Growers' Association, Mainland Milk Producers Association, and​ BC Dairy​, for support of the Virtual Conference.