Cheers to 30 Years
BCAITC is pleased to announce that the Cheers to 30 Years fundraising dinner was a resounding success! Thanks to attendees and sponsors, the event held on April 30, 2022 at Thomas Haney Centre in Maple Ridge, raised over $14,000 for the organization. Funds raised will be used to enhance and expand BCAITC's agriculture and food resources for K-12 classrooms.
Thank You
Thank you to the wonderful volunteers and sponsors that supported this event. We couldn't have done it without you.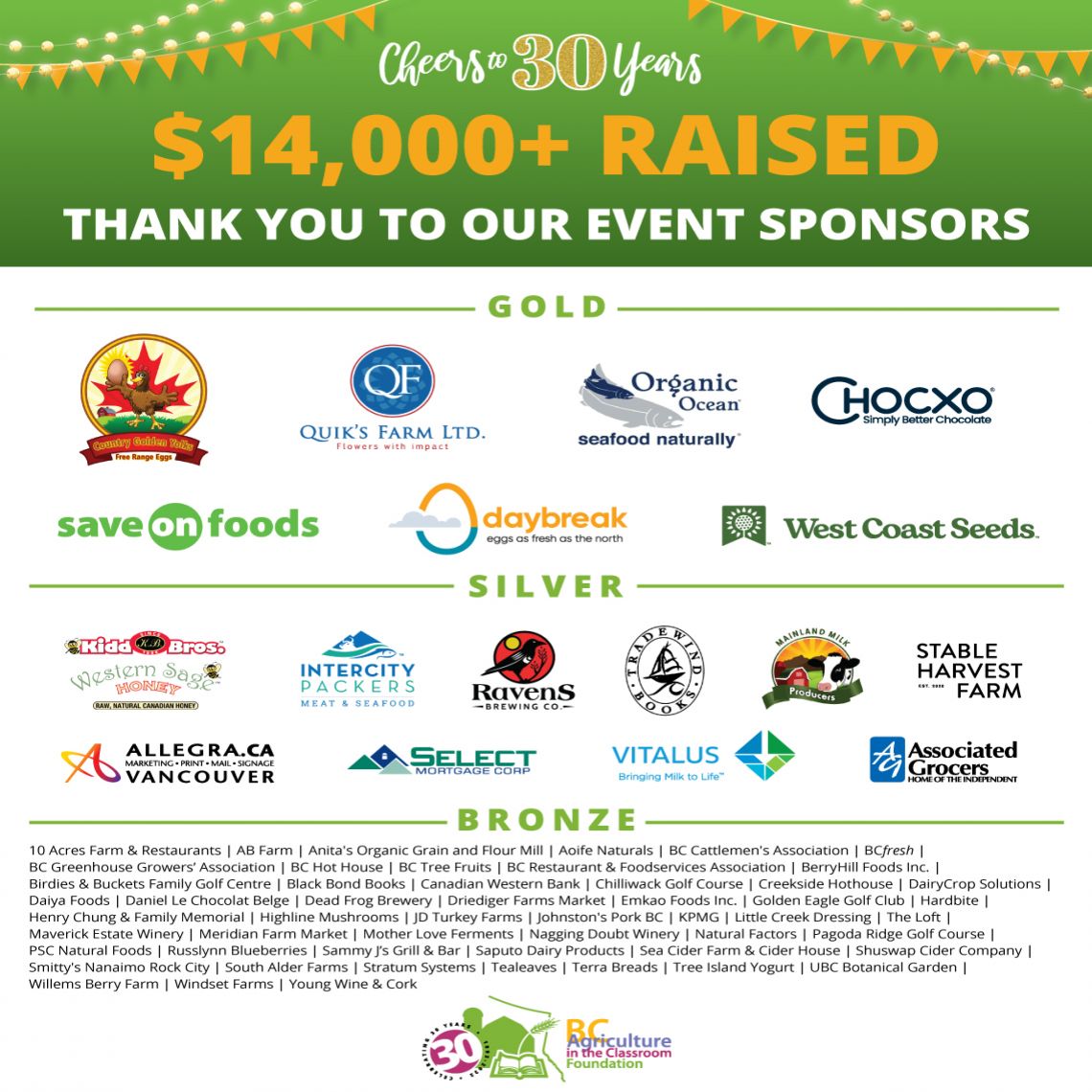 Highlights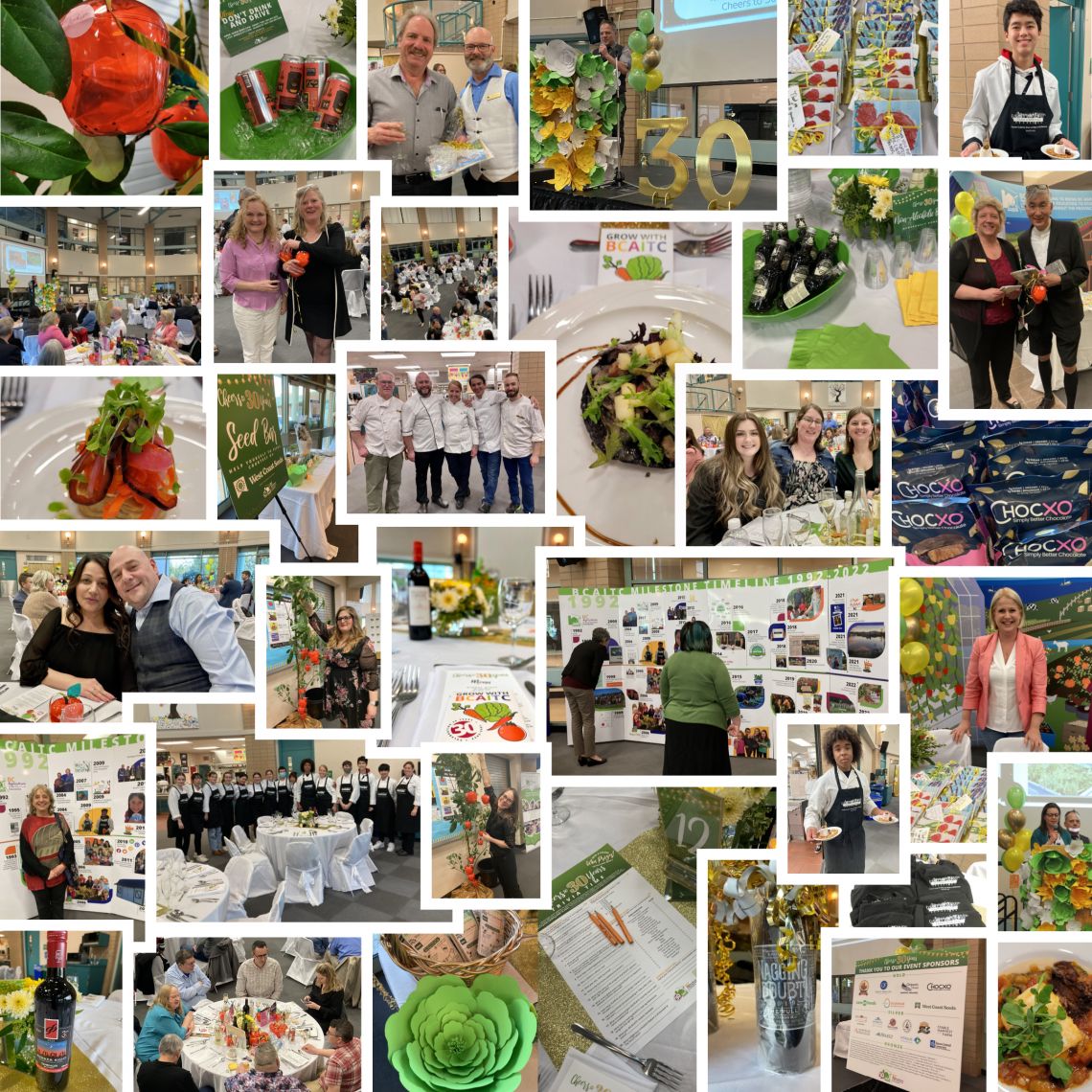 Over 120 guests including farmers, agricultural representatives, teachers, and friends celebrated BCAITC's 30 years of agriculture and food education. After two years of the COVID-19 pandemic without live events, this anniversary celebration brought the community together with excitement.
The highlight of the event was a 4-course meal prepared by a talented team of Red Seal Chefs (including BCAITC's Chef Randle, Chef Brian Smith, Chef Karen Carruthers, Chef Kyle Tillotson, and Chef Brent McGimpsey) and an enthusiastic team of Take a Bite of BC Culinary Arts students. The menu featured dishes showcasing BC ingredients: 'Mini Goat Cheese Cloud with BC Rainbow Pickled Vegetables', 'BC Roasted Portobello Mushroom Cap Topped with a Crispy BC Pork Belly Salad, Finished with Apple Vinaigrette', Local Surf and Turf - Braised BC Short Rib, Seared BC Halibut with Lemon and Chive Oil, Roasted BC Ratatouille and White Bean Puree', and 'BC Cheesecake with Local Blueberries with BC Hazelnuts and BC Brown Butter'.
Cheers to 30 Years was hosted by BCAITC's Board Vice-President and Master of Ceremonies, John Munro, who kept the evening flowing with light humour and a few personal stories. BCAITC's Executive Director, Pat Tonn, also spoke, providing a walk down memory lane. Melanie Lantz, BCAITC Board President, provided an insightful look at the organization over its three decades.
Cheers to 30 Years was chocked full of fun activities including: 
Fundraiser Apples: Guests were delighted with the mystery gifts including gift cards, books, food, wine, and gift baskets inside.
Trivia Contest: Guests tested their knowledge of BCAITC's history and activities for a chance to win prizes.
Seed Bar: A fresh take on a candy bar, the West Coast Seeds bar featured a variety of seeds for guests to take home and plant in their gardens.
Prize Draws: 10 lucky event guests won valuable prizes in the event's random prize draws. 
Silent Auction: 5 valuable items were offered up for auction to help support the organization.
Selfie Station: Guests had fun striking a pose at the selfie station with fun ag-inspired props.
Takeaway Gifts: Guests received ChocXO chocolates, greeting cards (featuring artwork from elementary students), and seed packages.
Pat Tonn, BCAITC Executive Director said, "It was a fun event! Thank you to all of the attendees, volunteers, and sponsors who made our event a great evening of food, fun, and fundraising. We are excited to be able to expand our organization's agricultural footprint in BC schools."
Questions
If you have questions about ticket sales, sponsorship, or anything else related to Cheers to 30 Years, contact Meghan McCrea, Communications Coordinator, at meghan@aitc.ca. Thank you for your support!