Canadian Agriculture Literacy Month 2020
Mark your calendar! Agriculture will come alive in Canadian classrooms throughout March 2020 as students participate in activities to learn about, connect to, and understand this important industry! Events and activities will run throughout the month to celebrate the fact that agriculture is all around us, every day.
About
Canadian Agriculture Literacy Month (CALM) is a Canadian-wide Agriculture in the Classroom Canada (AITC-C) initiative held annually every March. It encourages K-12 students to learn about Canada's agriculture and food story, including reading books, hands-on agricultural activities, and meeting with farmers and others in the agriculture industry.  
How to Participate
Reggie's Technology Adventure
BCAITC will be providing free resources for BC teachers to engage students to actively learn about Canadian agriculture during CALM. 525 schools participating in BCAITC's Spuds in Tubs program will receive Reggie's Technology Adventure to read to 14,000+ students. Teachers interested in having one of BCAITC's friends in agriculture come into the classroom to read Reggie's Technology Adventure to your students can contact Glenda Johnston, Program/Office Coordinator, at glenda@aitc.ca for a local agriculture contact. Educators can also order Reggie's Technology Adventure online here and access Reggie's Technology Adventure lesson plans and activities here: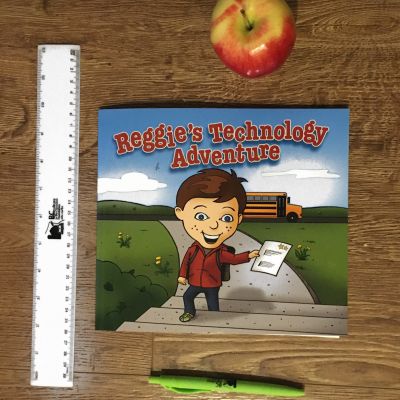 The Great Big Crunch
BCAITC is partnering with FoodShare and organizations across Canada to bring BC schools and organizations the opportunity to participate in The Great Big Crunch at 2:30pm on Thursday, March 5. Learn more about The Great Big Crunch online here.
Spread the Word
Educators participating in CALM are encouraged to spread the word about agriculture literacy and email photos, quotes, and stories about your CALM activities to glenda@aitc.ca. Or, you can share them on social media with the hashtag #CALM2020.  Please tag BCAITC and AITC-C on social media: